Circularity. Together. At the ICLEI World Congress 2022
Donna Tabangin sharing Baguio city's experiences in the Circle Lab for Cities Program in the workshop Digital tools to get started with Circularity. From left to right: Frenzi Ritter, Metabolic; Donna Tabangin, Baguio city, Philippines; Marion Guénard, ICLEI; Laura Talsma, Circle Economy; Pippa Henderson, Ellen MacArthur Foundation; Magash Naidoo, ICLEI.

Circularity was high on the agenda at the Malmö Summit, where ICLEI convened cities and thought leaders over a three day program covering different sectors and tools to achieve circular development locally. Together, the circular workshops at the Summit gathered approximately 300 participants in 7 events. Importantly, a strong theme that emanated from most sessions is that stronger integration is needed amongst the various thematic areas, such as circularity, social equity, resilience and energy.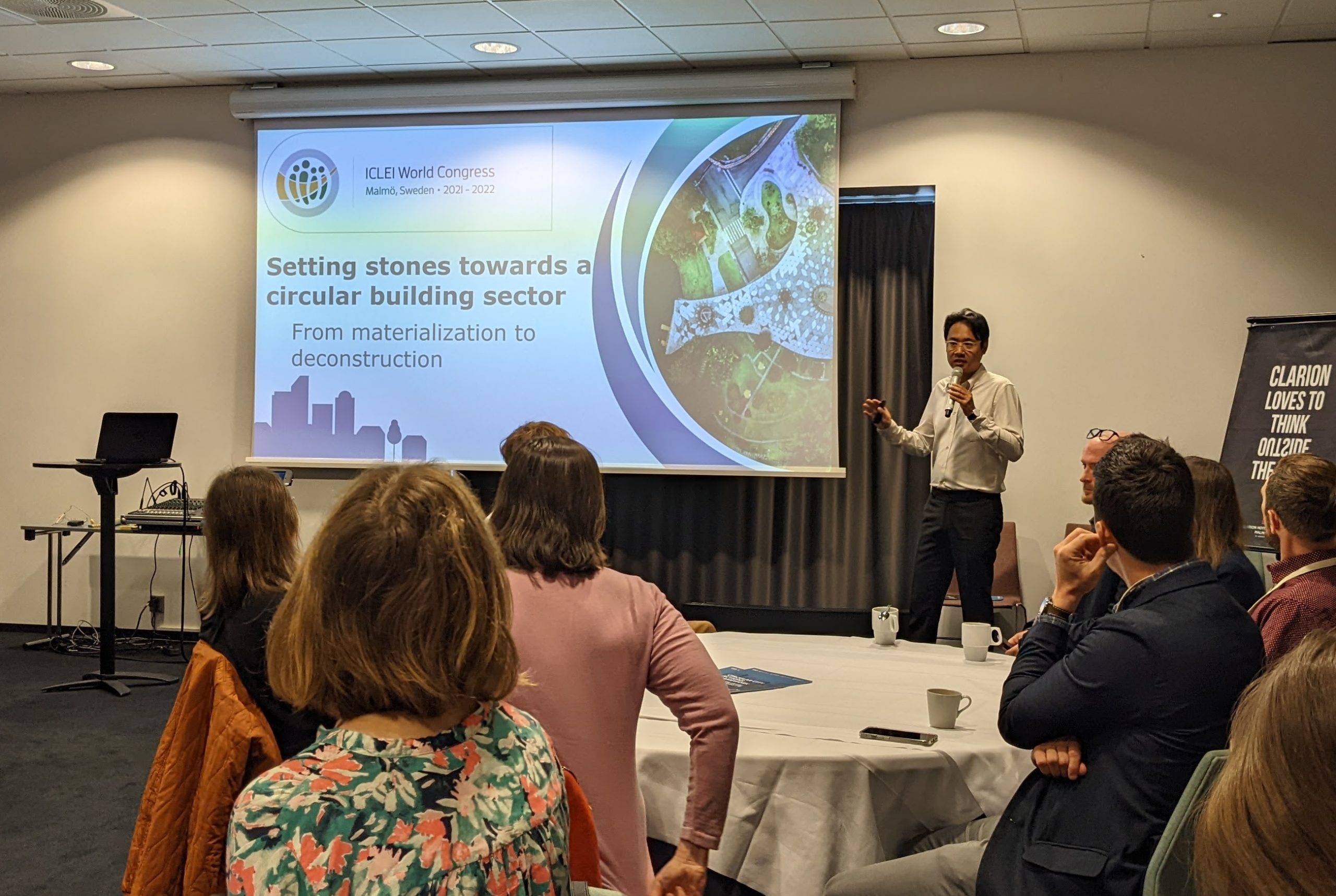 Ying-Chih Deng-Sommer (ICLEI) during the workshop 'Setting stones towards a circular building sector'.
Circular buildings and construction
The building and construction industry remains one of the most wasteful sectors. So what are the major challenges to implement circular economy principles in buildings and construction? The in-person workshop 'Setting stones towards a circular building sector from materialization to deconstruction' was developed to explore this question. Initial input from participants indicate three main obstacles. They are: opportunities to stimulate shifts in cultural, financial and business approaches and practices. The speakers complemented the discussion with four actionable cases, painting a holistic approach to retain and reactivate not only the building construction waste, but also the underutilized urban spaces and valuable skilled workers within the current construction value chains.
Circular plastics
In the virtual workshop exploring 'Circularity to overcome plastic waste management challenges', the key challenges that cities across Europe, South and South-East Asia are facing is the increasing waste volume, including plastic waste, and the issue of contaminated and non-recyclable plastics. Separation at source can mitigate some of the pressures at the end of the pipe, however further education and awareness-raising is required to support citizens to sort correctly to increase the value retention of materials and prevent landfilling. Ultimately, circular approaches to the design of products, such as rethinking the need for extensive packaging and banning the use of non-recyclable and hazardous plastics, are key to reducing the burden on cities. At the same time, cities are key in providing enabling regulatory environments and infrastructure that will support citizens and businesses.
Circular food systems
ICLEI and the Food and Agriculture Organization (FAO) have partnered to promote circular food systems in South America. ICLEI organized a training session to highlight 'Strategies to minimize food waste from producers to end consumers in mid-sized cities in South America'. Several CITYFOOD members across Brazil presented on-the-ground leading actions combating food waste, from educational efforts to rethinking the food supply chain, to community composting for food recovery. The training also facilitated city-to-city exchange of initiatives and methodologies while exploring the specific challenges and opportunities tied to the Brazilian context. During the session, speakers emphasized how managing food waste streams is fundamental to increase resilience in a city's food system, which ultimately results in more efficient use of land and resources. Some of the main learnings of the training include the overall recognition of the importance of integrating all actors across the value chain for successful interventions, and platforms and events that facilitate exchange of knowledge which provide guidance on implementing successful initiatives, especially from bigger-to-smaller-tier cities.
Along with sectoral guidance, the Malmö Summit also offered a snapshot into overarching tools that can be used by cities to promote circularity. Circle Economy and ICLEI launched Ganbatte. Ganbatte is an online platform to assist cities on their first steps in their circular journey by providing a city-specific overview of resource flows across different sectors, and access to relevant case studies in the Solutions explorer. Furthermore, the platform Metabolic ACT was introduced which will support city officials in setting up open innovation challenges to engage stakeholders to work towards their circularity goals using an interactive dashboard to track progress. ACT is currently in the user testing phase; if you are interested in testing how ACT can support your city's circularity goals, sign up here. Both tools are outcomes of the Circle Lab for Cities Program.
Finally, ICLEI convened industrial legacy cities – cities whose historic development was strongly driven by 20th century industrialization – as part of the Urban Transitions Alliance project to discuss the next steps of the Alliance and identify priorities for future collaboration. Throughout their transition journey away from carbon-intensive industries and heavy manufacturing
towards more green and just urban environments, industrial legacy cities offer valuable learnings for others to follow. As circularity presents the ideal framework to combine their joint focus on equitable and climate conscious development, the shared identity and conditions of these cities will be the starting point for ICLEI Circulars to organize targeted exchanges for peer learning.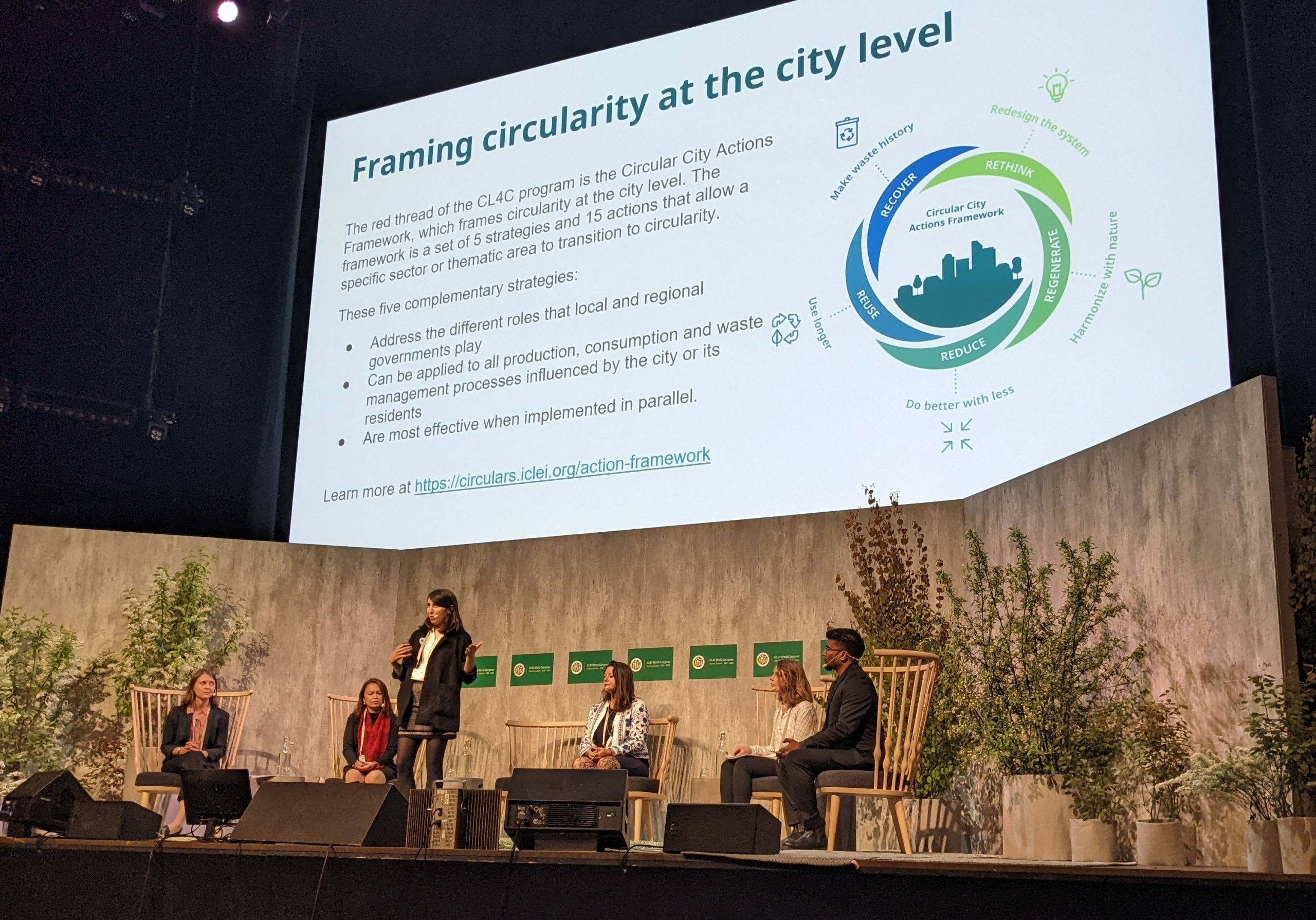 Marion Guénard (ICLEI) presenting the Circular City Actions Framework, a set of holistic strategies to implement circularity locally.
For further information on the ICLEI Circular Development Pathway and initiatives, please visit https://circulars.iclei.org/ or email us at Circular.Development(at)iclei.org.