Five steps to achieve circularity in cities
by Angelica Greco, ICLEI World Secretariat
How can cities kickstart the transition from a linear to a circular economy? Knowing where to start—and how to move forward—often poses challenges for cities embarking on their circular economy transition. Circle Economy, ICLEI – Local Governments for Sustainability, Metabolic, and the Ellen MacArthur Foundation leveraged their combined expertise to create the Circular City Actions Framework, a framework that unpacks what the circular economy concept means at the local level, to help cities on their circular journeys. This article offers a brief introduction to the framework; to see how cities are already putting the framework into action, sign up for the upcoming webinar series Circular Cities in Action – A deep-dive into 5 priority sectors.
The Circular City Actions Framework guides cities on how to approach the circular economy from an integrated perspective by highlighting multiple entry points along the "5 Rs": Rethink, Regenerate, Reduce, Reuse, and Recover. Instead of focusing circular economy efforts exclusively on waste and "end-of-pipe" solutions like recycling, local governments can use the framework to expand their impact by intervening before waste is even created. They can do this by, for example, incentivizing residents to embrace circularity (Rethink), identifying opportunities to deploy green infrastructure (Regenerate), devising strategies to shrink the resource footprint of city infrastructure (Reduce), setting up local sharing platforms (Reuse), and keeping waste out of landfills by mandating sorting and resource recovery (Recover).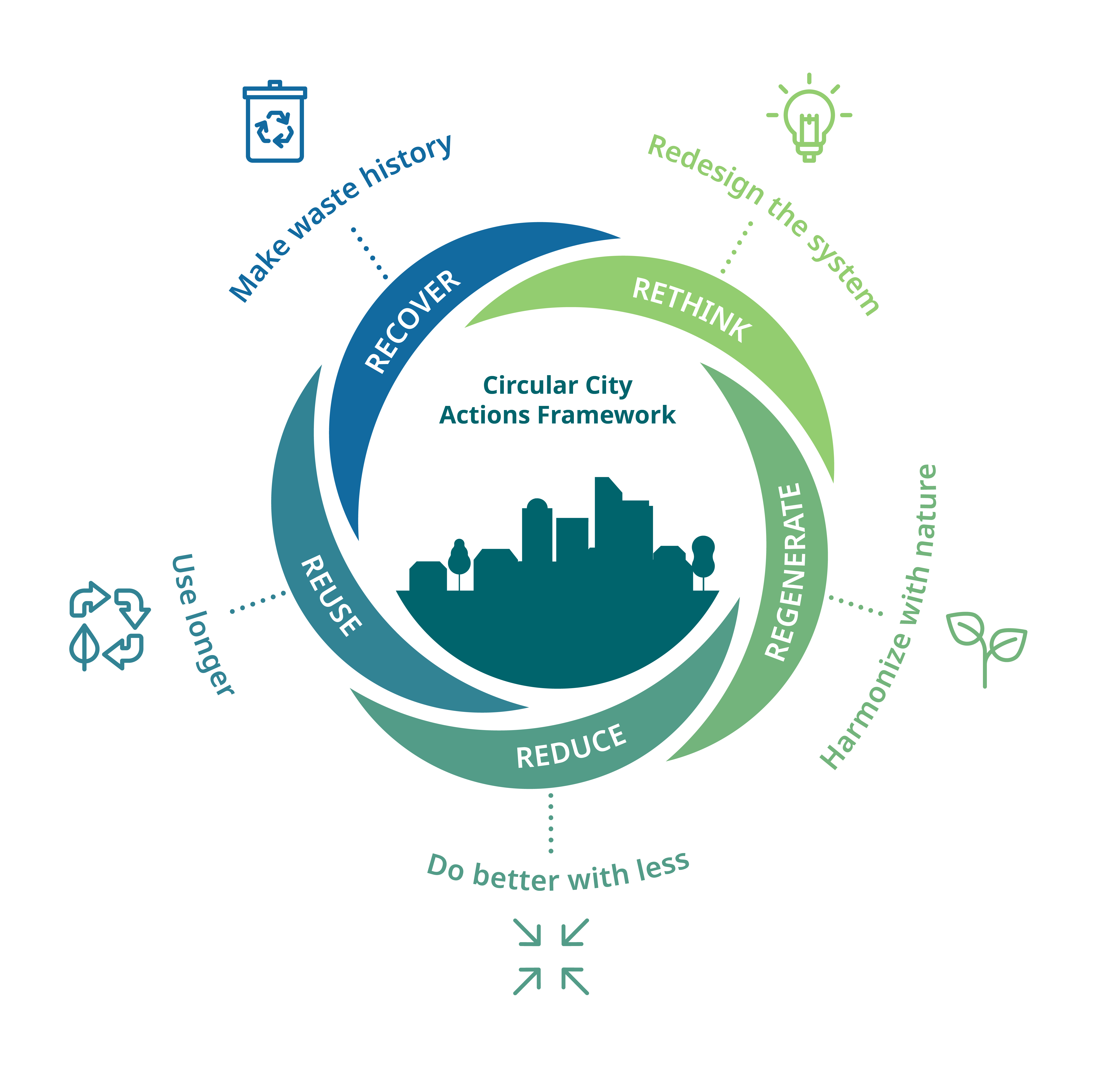 A key feature of the Circular City Actions Framework is that it takes a value chain approach to the circular economy. This means that it includes interventions spanning all activities related to production and consumption in the city–from goal setting and design, to the use-phase of a product, service or infrastructure, all the way through to waste management and recovery processes. These interventions reflect the diverse roles that local and regional governments play, from regulation and urban planning to convening diverse stakeholders, asset management and public service delivery. By advocating for circular actions spanning the entire value chain, the Circular City Actions Framework shows cities how they can move from piecemeal, incremental steps to a more systematic approach. The value chain perspective also helps local governments identify existing circular practices and stakeholders in the city that may not be recognized as contributing to circularity.
Interested in bringing the Circular City Actions Framework to your city? You can get started by learning from other cities through the ICLEI Circulars platform and the ICLEI network, which features numerous local governments with leading practices along the 5 Rs. You can find even more examples of circularity in action by browsing the Knowledge Hub Circular Cities collection, a library of over 450 case studies created by Circle Economy and ICLEI. On the Knowledge Hub, you can read how the Finnish city of Turku is leveraging circular procurement to cut lifecycle food service emissions (Rethink), how Seoul is scaling up its car, bike and scooter sharing services (Reuse), and how Ashaiman, Ghana, is collaborating with a circular business to convert waste streams into biogas and fertilizer (Recover).
To learn more about successful circular projects, sign up for the webinar series Circular Cities in Action – A deep-dive into 5 priority sectors. The webinar series will showcase how the Circular City Actions Framework can be applied to different sectors at the local level. In each session, 3-5 cities from different world regions will present on how they are implementing one or more R strategies; participants will have the opportunity to ask questions during a Q&A session.