Waste & consumption: The blind spot of mitigation efforts
by Charis Hoffmann, ICLEI World Secretariat
Around 45% of global emissions are estimated to result from how we produce food and goods. That's a significant percentage. Indirect emissions, emissions resulting from local activities and consumption but occurring elsewhere, are expected to be at least as high as direct emissions of these local activities, but are not monitored in greenhouse gas (GHG) inventories. To reach net zero by 2050, our economic systems, currently characterized by the take-make-waste model, need to transition to circularity.
Local climate plans need to address consumption-based emissions to reach the goals of the Paris Agreement, and circular development offers concrete pathways to address these emissions in a systemic manner. During COP26, ICLEI elucidated the strong connections between circularity and climate mitigation to representatives from all government levels and showcased the work cities are championing in circular development.
Making circularity a core component of climate advocacy
Leading up to COP26, ICLEI advocated and created a space for waste, consumption and circularity within the climate negotiations. As part of this, ICLEI co-authored the Human Settlements Climate Action Pathway of the Marrakech Partnership for Global Climate Action (MPGCA). The Marrakech Partnership is a key mechanism to strengthen collaboration between governments and non-party stakeholders in the COP process, and the Climate Action Pathways are vital to enhance climate action and ambition towards fully implementing the Paris Agreement. The Action Table sets out recommended actions for all stakeholders to support zero-waste cities and provide the enabling conditions for 1.5° living. The recommended actions it outlines also include measures to ensure interventions are socially equitable. One of the near-term measures follows the Social Equity Framework developed by ICLEI to recommend that climate policies and interventions should be designed to 1) enable access for all, 2) foster participation and co-creation and 3) offer equal opportunities for all.
Many of ICLEI's member cities are already moving forward with plans to reduce GHG emissions and to rethink how food, consumption and waste impact on these. Cities, through their roles as procurers, conveners, regulators and enablers of production and consumption, play a key role in leading the transition to circularity. The session Redesigning economic systems for just, circular and nature-based cities at the Multilevel Action Pavilion demonstrated how local economic systems are being redesigned to work in tandem with nature and be fairer. The session highlighted the potential social co-benefits circular development offers: equitable access to goods and services, better local employment opportunities and a green Covid-19 recovery.
Frontrunning cities worldwide are already implementing circular solutions
Reflecting on Glasgow's own industrial past and its move away from heavy manufacturing, David McDonald, Councillor & Deputy Leader of Glasgow City Council declared "The next revolution we want in Glasgow is one that delivers a future of less carbon and more fairness". In partnership with businesses and civil society organizations, the Glasgow City Council has developed a Circular Economy Route Map with the commitment to become a circular city by 2045, "building an inclusive city economy that is both restorative and regenerative", envisions McDonald.
Across the sea, Turku, Finland, is also making ambitious, equitable plans. "Ensuring residents benefit from the transition to a climate positive Turku is our priority. The Circular Turku roadmap is the first circular economy roadmap to include a social risk assessment for the planned interventions to ensure the Circular Turku transition is fair and inclusive", announced Minna Arve, Mayor of Turku, Finland and ICLEI Vice President, during the Marrakech Partnership Action Event Building places for people to thrive in a zero-carbon, resilient future on 11 November. The city of Turku endorses the Human Settlements Pathway and is implementing measures in all three action areas in the recently launched Circular Turku Roadmap, "which links the circular economy to its climate plan to help address greenhouse gas emissions and protect biodiversity in a systemic manner", said Arve.
For cities whose economy depends on their natural environment and tourism, circular climate plans are of the utmost importance, insists Kelly King, Council member of Maui County, Hawaii, USA, "As we look at diversifying our economy, we are focusing on how we create an economy that returns to our people, keeps revenue local and keeps jobs local." Maui County's tourism sector was halted during the COVID pandemic, leading to calls to move beyond its extractive, fluctuating nature to build a more regenerative system.
ICLEI is supporting Maui County to identify circular development priorities to drive the transition locally through the Circle Lab for Cities program, in partnership with Circle Economy, Metabolic, and the Ellen MacArthur Foundation, through which the County is testing online and offline tools that support circular development planning and implementation at the local level.
Lastly, while the focus is often on reducing, reusing and recovering resources, circular development is also about regenerating ecosystems. This can be through favoring the use of renewable resources and minimizing pollution and resource use, something the Portuguese city of Porto knows a thing or two about.
"Porto is a city that works inspired by nature…circularity is one of the basic principles of nature".
-Filipe Araújo, Vice-Mayor of Porto
The city is working towards a circular food system and is incorporating nature-based solutions in city planning. One example of this is Asprela Park, which acts as a sponge during heavy rainfall, allowing the city to absorb large quantities of stormwater. The Circular Porto 2030 plan builds on the many initiatives in the city to provide a vision for circularity.
These city-level circular actions are formative, their leaders inspiring. But for their impact to be amplified, local-level circular development plans need to be vertically integrated with higher level governmental actions. This need was prominent on ICLEI's agenda at COP26.
Multilevel collaboration is key to achieve carbon neutral circular economies
For the ICLEI Circulars community, COP26 was a great moment for exchange. Local leaders demonstrated their ambition and commitment to implementing a circular economy locally. They outlined plans to create a fairer and more sustainable system and to reach their climate targets. The importance of these local actions for achieving global goals is unequivocal, noted Tunç Soyer, Mayor of Izmir Metropolitan Municipality, Turkey, and ICLEI´s Co-Chair on Climate Action, in his address to the COP26 Legislators Summit at the Scottish Parliament.
"It is now clear more than ever; in our urban world of the twenty-first century, multilevel collaboration, underpinned by a circular culture is one of the few, if not the only, inspiration of hope to respond to the age of climate emergency"
– Tunç Soyer
Thankfully, parties to the Convention also acknowledged the centrality of cities and regions for the Paris Agreement, making explicit inclusion of them in the preamble of the Glasgow Declaration. "It is crucial for subnational governments to be included in creating NDCs and NDCs tend to be more ambitious when they are created through collaboration between national, regional, and local governments. Implementation ultimately happens at the subnational level and making these entities part of the process will ensure that change happens as fast, efficiently and impactful as possible", writes Yunus Arikan, Director of Global Advocacy at ICLEI in the Cities and Regions Guide to COP26.
The task ahead lies in ensuring that circularity is recognised across governance levels as a key component of multilevel climate action. Currently, that's not the case. As Circle Economy reports, only 75 Paris Agreement signatory countries mention the word 'circular' in their nationally determined contributions (NDCs). That means around two thirds of countries are yet to include circularity in their climate pledges.
This is something ICLEI's circular development community is looking to address in preparation for COP27. However, the consequences of this slow up-take are clear: without integrating circularity into climate plans at all levels, the probability of making a decisive break from the take-make-waste model and marking stark production and consumption-based emissions reductions will remain low.
Read more on ICLEI's takeaways from COP26 here: COP26 outcomes: Multilevel action is the beacon of hope to keep the 1.5 degree goal alive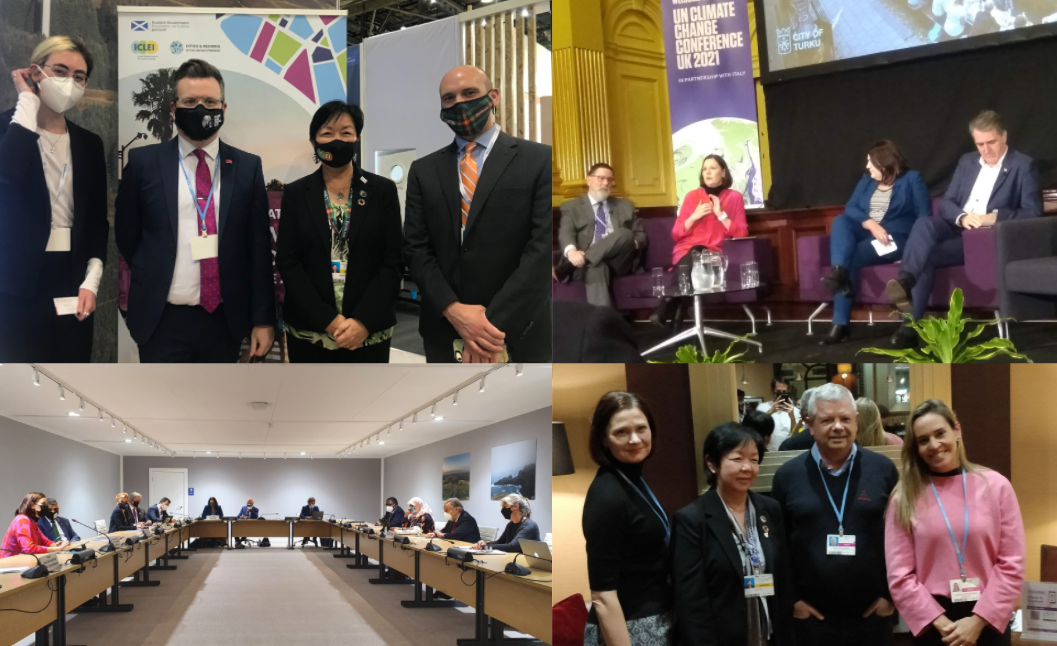 Top left, left to right: Charis Hoffmann, ICLEI; David McDonald, Councillor & Deputy Leader of Glasgow City Council; Kelly King, Council member of Maui County, Hawaii, USA; Kale Roberts, ICLEI, at the event Redesigning economic systems for just, circular and nature-based cities on 5 November.
Top right, left to right: Bill Peduto, Mayor of Pittsburgh, USA and Minna Arve, Mayor of Turku, Finland, with Cllr Susan Aitken, Leader of Glasgow City Council and Andy Burnham, Mayor of Greater Manchester, at the International Mayors Panel Discussion at Glasgow City Chambers on 11 November.
Bottom left: Mayor Arve addressing UN Secretary General António Guterres.
Bottom right, left to right: Mayor Arve; Councilmember Kelly King; Axel Grael, Mayor of Niterói, Brazil; Isabella de Roldão, Vice-Mayor of Recife, Brazil, at the ICLEI Circulars High-Level Cities Exchange.